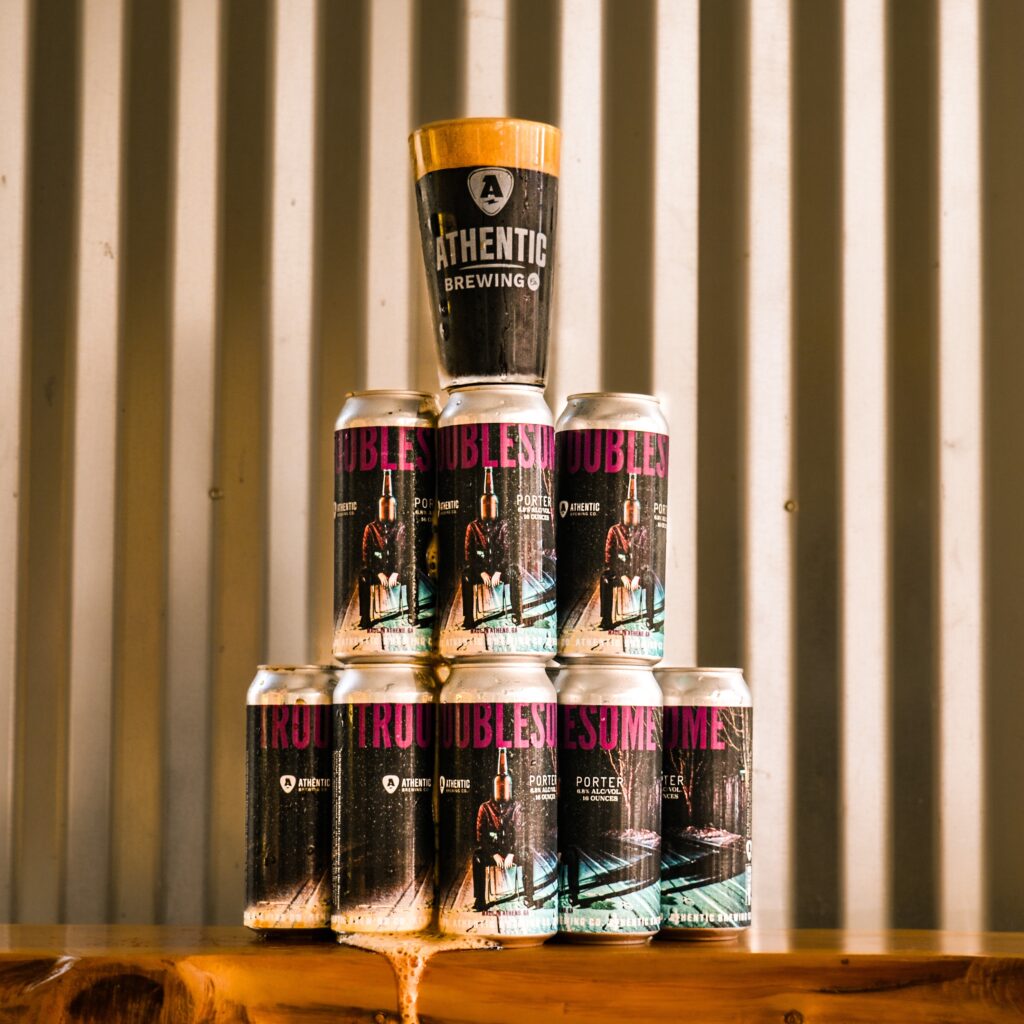 Troublesome
𝕿𝖗𝖔𝖚𝖇𝖑𝖊𝖘𝖔𝖒𝖊 (adjective) trou·ble·some /ˈtrəbəlsəm/
1.) Difficult; burdensome
2.) Giving trouble or anxiety; vexatious
EXAMPLE: 𝘈𝘧𝘵𝘦𝘳 𝘮𝘶𝘭𝘵𝘪𝘱𝘭𝘦 𝘢𝘵𝘵𝘦𝘮𝘱𝘵𝘴 𝘢𝘵 𝘨𝘦𝘵𝘵𝘪𝘯𝘨 𝘵𝘩𝘦 𝘳𝘦𝘤𝘪𝘱𝘦 𝘳𝘪𝘨𝘩𝘵, 𝘪𝘵 𝘸𝘢𝘴 𝘥𝘦𝘵𝘦𝘳𝘮𝘪𝘯𝘦𝘥 𝘵𝘩𝘦 𝘣𝘦𝘦𝘳 𝘸𝘢𝘴 𝘵𝘰𝘰 𝘵𝘳𝘰𝘶𝘣𝘭𝘦𝘴𝘰𝘮𝘦 𝘵𝘰𝘥𝘦𝘢𝘭 𝘸𝘪𝘵𝘩.
If you were with us back in 2020, you might recognize Troublesome from our draft list way back in the day. It was originally named by our head brewer's wife, Valerie, after some devastating wildfires the two encountered on a trip out west. We haven't brought it back until now because this beer has truly earned its name.
Brewing beer isn't as consistent as we'd like when you're as small as us. Malt get changed by the manufacturer, certain hops aren't available because of farming problems, recipes go through multiple hands and important details don't get written down, the list goes on. We've had problems ALL along the way to get you this beer, but we so relieved to finally release this beast.
Troublesome is an American Porter that comes in at 6.8%. It's dark, it's got a higher ABV, but the mouthfeel is smooth, savory, and most surprising, ridiculously light. With tasting notes of tobacco, roasted nuts, and vanilla, you can crush SEVERAL and not feel it on your stomach.