Mutual Aid Athens' 2023 Spring Fundraiser
May 13 @ 4:00 pm

-

10:00 pm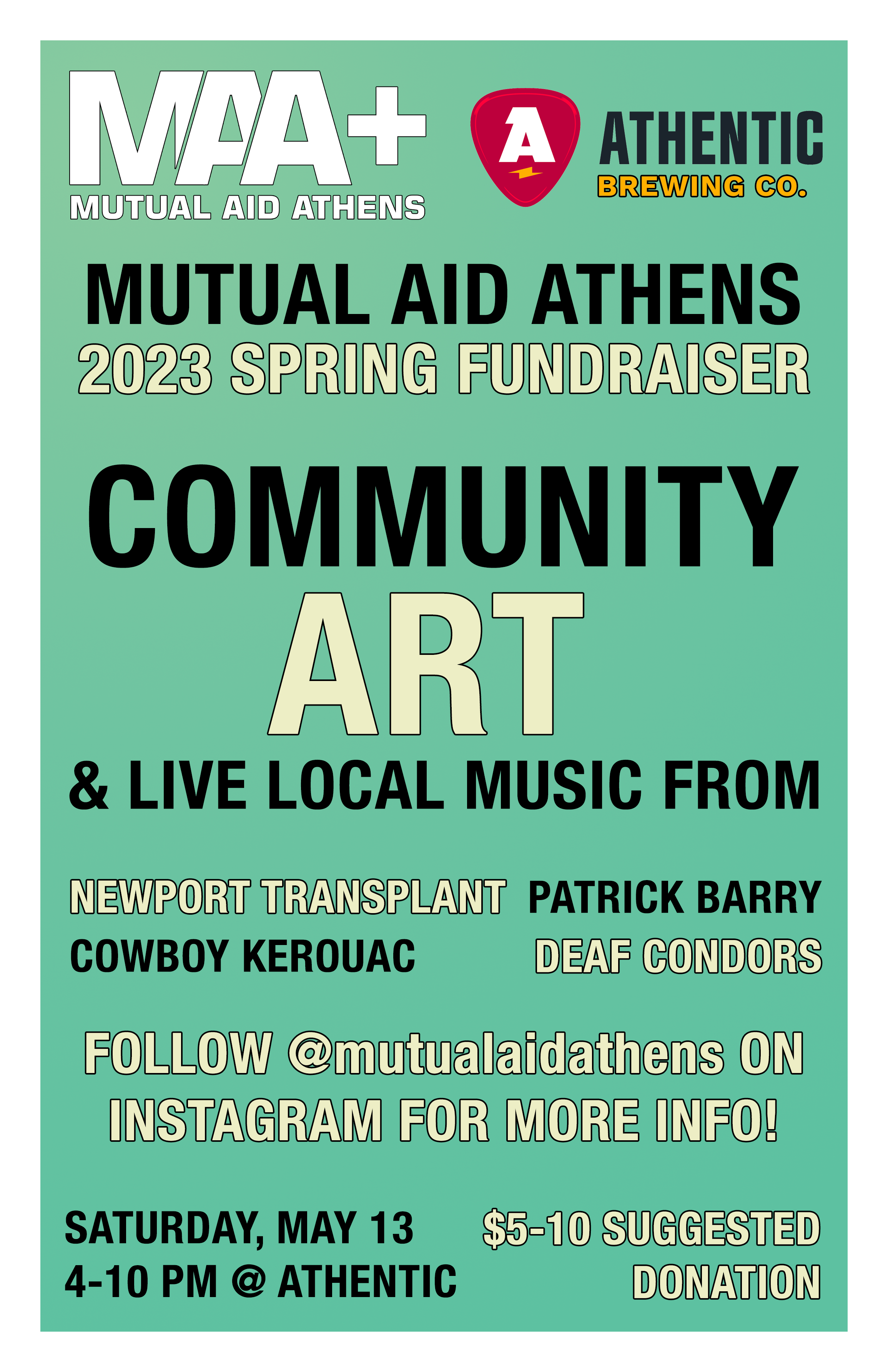 Come gather for Mutual Aid Athens' Spring Fundraiser, filled with art, community building, local music, delicious Athentic beer and food by Official Street Eats!
$5-$10 Suggested Donation
Patrick Berry @ 5:30pm
Deaf Condors @ 6:30pm
Cowboy Kerouac @ 7:30pm
Newport Transplant @ 8:30pm
MAA is a local, non-hierarchical organization focused on providing direct aid to our community members most in need. We assist our unhoused neighbors, as well as housed neighbors facing serious economic challenges, by providing them with monetary assistance, food, resources, and anything we're able to pool our resources together for based on their needs. Our members feed our unhoused Athens neighbors every single day!
Change of seasons is always a time of great need for our community- getting geared up to survive the scorching Georgia summer is paramount. We will be accepting donations of any of the following items:
Money, New socks, New unopened underwear, Clean blankets, Tents, Toiletries (toothbrushes, toothpaste, combs, etc.), Sanitary wipes, Power banks, Granola bars, Bottled water/Gatorade, Snack cakes, Cigarettes, Disposable vapes, Lighters, Ziplock bags
This event is more than a fundraiser- it's a chance for the community to come together and connect with one another through art, music, and great local beer. Community members are encouraged to email [email protected] with any group-focused, participatory art projects they'd like to bring to the event. Local musicians will perform sets live starting at 5:30 PM. And of course, delicious beer will be flowing all day thanks to the incredible folks at Athentic who have agreed to host this fundraiser!
Related Events