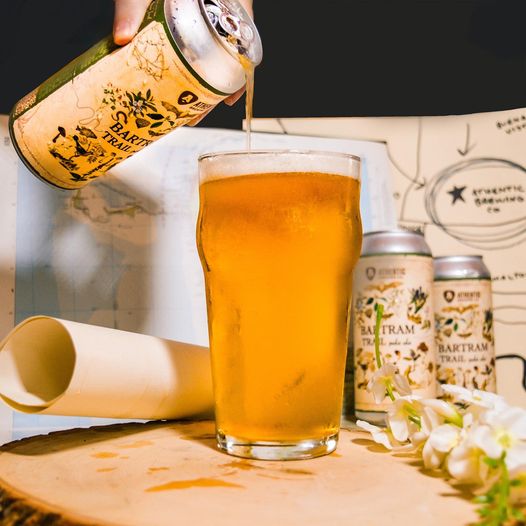 Bartram Trail Pale Ale
The Bartram Trail Pale Ale is a collaboration beer to celebrate the 250th anniversary of the historic trail that covers William Bartram's adventures through the southeast. 
Bartram Trail Pale Ale is a beautifully balanced pale ale perfect for those who appreciate a hoppier beer, and for those who prefer sours or lighter beers alike. Dry hopped with Chinook, Mosaic, and Centennial hops, this beer has a refined taste of floral and earthy notes with a beautiful and aromatic finish. 
Can art is a lithographic-inspired collage of Bartram's own illustrations he created while journeying through the southeast so many years ago. Available in cans and on draft to celebrate the momentous person, trail, and conference.
William Bartram was the US's first native-born naturalist and artist, and he took a momentous journey through the southeast, from the foothills of the Appalachian mountain, all the way to the swamps of Florida, illustrating the natural landscape and then later published a book on not only scientific observation but his own personal experience of his trip, making him one of the first authors in this genre of writing. 
This year the Bartram Trail Conference is right here in Athens, so we brewed this beer to celebrate 250 years of the trail and the continued celebration of his work and fascination with the landscape that we are lucky enough to experience every single day. 
Can art and photograph by Sarah Frazer